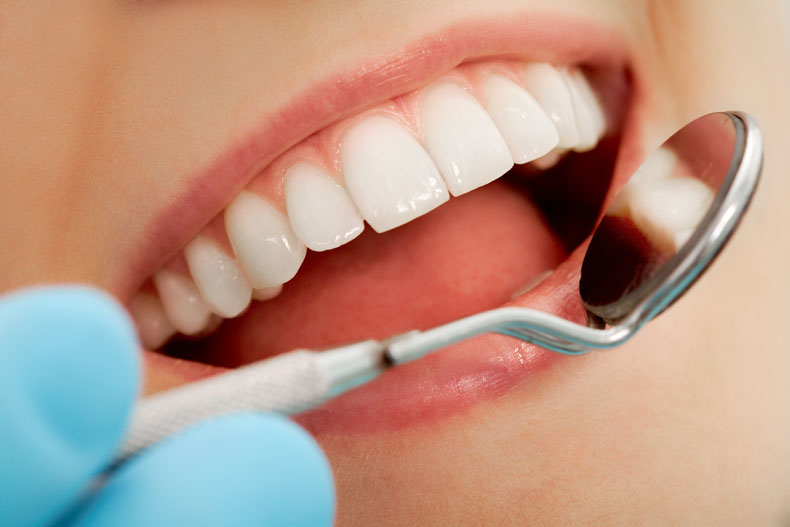 Many works of art contain smiling expressions. However, some artists have taken this to a whole new different level by adding a set of teeth to their work. Below are some unusual artworks depicting not only the smiles but also teeth.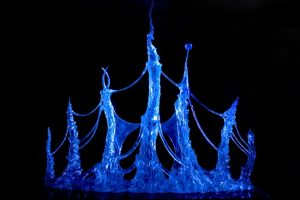 Gina Czarnecki creates crystal palaces from children's teeth
Gina Czarnecki is a British artist who specializes in installations, painting, film, and sculptures, among other media. One of her works is the Palaces, which was produced between the years 2011 and 2016.
The art piece is three meters high and two meters in width and is constructed of crystal resin. The link to teeth may not be obvious, but many baby teeth contributed by kids throughout the United Kingdom are embedded inside the resin. The study was conceptualized in partnership with Sara Rankin, a professor at Imperial College London. The teeth were collected over 5 year's period.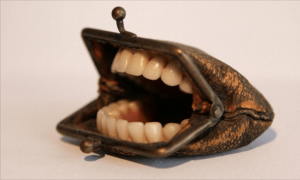 https://www.dentistryiq.com/dentistry/products/operatory-products/article/16355018/dental-art-tooth-purse
Nancy Fouts is an American artist who lives and works in the United Kingdom. She is known for her playful and imaginative sculptures and pieces.
Her work involves many items wherein teeth play an important part, including Purse with Teeth. This is a 2010 invention that incorporates a change purse with 2 complete prosthetic teeth designs. The work appeared on the cover of a British Dental Journal issue from 2013.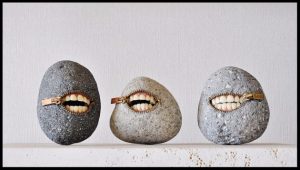 https://www.parisartweb.com/artists/sculpture/hirotoshi-ito/
Hirotoshi Ito is a well-known Japanese artist who works with stones and rocks. A few of his work includes altering the form of rocks he collects to make them imitate other artifacts. However, his most famous work was the Laughing Stones, which he made from stones found close to his house in Matsumoto, Japan. The Laughing Stones featured a collection of stones with elongated sets of teeth to make a distorted face.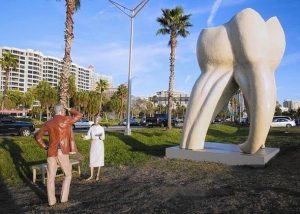 https://www.chicagotribune.com/suburbs/post-tribune/ct-ptb-crown-point-tooth-st-0405-20170404-story.html
Throughout his long career, Seward Johnson (American artist) created a wide variety of pieces. Nonetheless, he is best known for his life-size and bigger depictions of everything from regular citizens to famous photographs and other artworks. His sculptures can be found in museums and cities all over the globe.
The Tooth is a huge molar sculpture that he made as part of his Monumental Scale series. The sculpture is 20 feet tall and made of cast aluminum. In 2017 and 2018, it was on display in Crown Point, Indiana.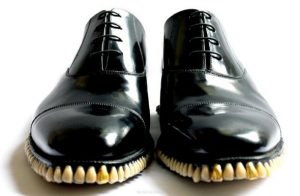 Apex Predator Shoes: Fantich & Young
Apex predator was created by Dominic Young and Mariana Fantich. It is a set of clothes and artifacts with bones, hair, military garlands, and teeth adorning and styling them. According to the artists, the works are designed for a conscientious customer with a preference for strength and uniqueness.
"Channel Zero" Creator Reveals "Hannibal"-Inspired Origin for the Nightmarish Tooth Child
The tooth-covered creature designed for the first season of SyFy's horror anthology series Channel Zero is sometimes called Tooth Child.  This creation, a tiny monster coated in teeth from top to foot, is one of the more frightening creative uses of teeth.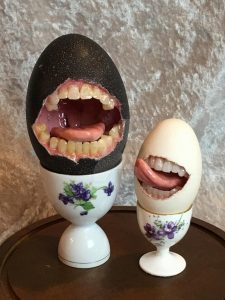 https://www.deviantart.com/sutherlandsunderland/art/Yolk-Mouths-Egg-Oddities-by-Sutherland-s-Underland-730886376
Jennifer Sutherland, a California-based artist, is the creator of Yolk Mouth. This is a handcrafted item that features real eggs that she colored and added teeth, tongues, and a variety of many other features.
Conclusion
Many artists, who are inspired by teeth whitening, have used teeth in their artwork to pass their message. Some artists use this kind of artwork to entertain or to symbolize something. The above pieces are just some of the ways that artists have been creative with their artworks by incorporating teeth.